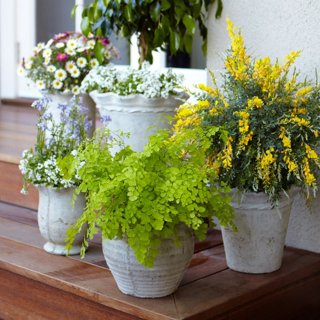 Playing outside and outdoor entertaining is one of the great joys of spring and summer. Until, of course, the bugs invade. In place of spray and pesticides, try a cluster of mosquito-repelling potted plants. Grouped together near a seating area on your deck or patio, they make a pretty and lush addition to your outdoor landscape while also protecting you and your guests. Check out One Kings Lane's article
Easy Update: Mosquito-Repelling Potagerie
for more information about how a trio of lush potted plants will have you saying good-bye to bug spray.
We are lucky to have a lush backyard at our new place but I hardly let the kids go out there because they come back with mosquito bites larger than a silver dollar. Avinash is in the habit of counting his bug bites to keep track. That is totally something I used to do when I visited India during the summer. Crazy to think he is getting as many bug bites here as I would there in the actual tropics. He does have really smelly feet which bugs love.
I really hate spraying them down with chemicals so I will definitely be trying this, especially since our planters are still empty and it is still not too late to start tomatoes down here! I wonder if all the neighborhood cats will visit if I plant catnip?
This is as far as we ever get. Two kids in a tiny bucket. Also, note all the lovely empty planters behind them!
disclosure: affiliate links used.